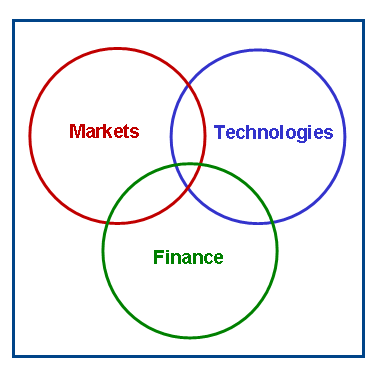 Strategy + Implementation


OUR DIFFERENTIATION

Our first key differentiation is deep experience in all three areas of technologies, markets and finance. This allows us to deliver an integrated strategy spanning the three areas.

Our second key differentiation is that we provide both strategy and implementation. We deliver the ideas, and we deliver the results.

Our goal throughout is to provide clients with dramatic, profitable growth, which is both capital efficient and protected by sustainable competitive barriers.

In some cases, our clients want help finding new growth markets for their existing products and technologies. In other cases, they want help identifying the best products and business models for success in specific markets.

Either way, we are often involved in implementation as projects develop, including taking interim executive or Board roles, if appropriate. We are experienced at taking ideas from early sketches, through product development and launch, to high growth revenue. We have managed large teams to provide critical deliverables under challenging constraints, as well as participating on projects at an individual contributor level.

Our projects often include development of compelling business plans, which win funding from Boards and venture capital firms.